What is DRT
DRT (Dena Recycling Technology) is a High-Speed Composting (Fermentation & Drying) System which can convert a batch of organic matter or waste into value-added products such as fertilizer/compost or animal feed within 2-24 hour. The base technology of DRT is to reproduce the natural circulation system in the machine for short time operation. The material such as organic waste, food processing waste and sludge are thrown into the reactor and is vacuumed to maintain a certain boiling point. Thus an ideal condition for the high-speed composting is provided and the material is dehydrated in a short time.
WHAT CAN BE DONE WITH DRT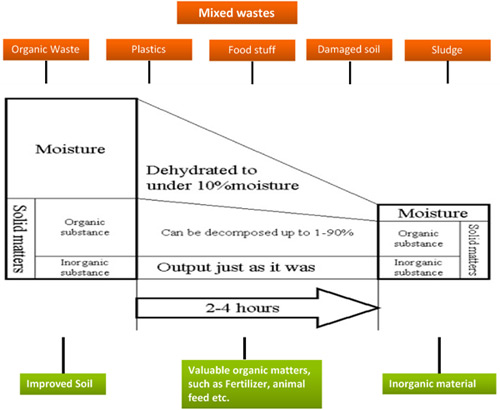 Key Technology of DRT
Input the organic waste & local bio organisms
Control the boiling point under low air pressure condition
Control a high-speed fermentation state
Vacuum dry the decomposed materials
Characteristic of DRT
No drain
No Odor
No CO2 emission
Compact style
Low energy consumption, Low cost
Hi speed operation (2-5hours)
Benefits of DRT
Portable for easy mobility
Easy to install on site
Compact design, requires less space
Lower running cost
Less wear and tear as there are less number of moving parts
Plug and play system, fully automated with 'one push control'
Required only 1 person for the handling of complete operation
Mixed waste input can be fed into the chamber, separation is not required
Easy maintenance
Huge reduction in processing time. Our system can complete the process between 2-6 hours per batch
There is no odour
There is no waste water discharge
No CO2 emissions
100% green solution
No drain
Finished product is bacteria free
Machine will separate the organic and inorganic waste after processing is completed
It can handle and process almost all types of organic waste.